Analysts Expect Chainlink (LINK) Reversal After 50% Eruption to $14
Chainlink (LINK) has erupted higher in the past week, recently crossing above $14 for the first time ever.
The asset trades at $14.40 as of this article's writing, which means that it is up by approximately 20% in the past 24 hours.
The asset's outperformance comes as Bitcoin, Ethereum, and other major crypto-assets have stalled at local highs.
LINK is prepared to drop from here, say some analysts as certain technicals suggest the bull trend is weakening.
Chainlink Could See a Bearish Reversal, Analysts Say
Hands down, Chainlink (LINK) has been one of the best performing cryptocurrencies over the past week. After dropping as low as ~$8 into the end of July, the asset has since popped to $14.40 as of this article's writing.
Analysts, though, are starting to expect a retracement as the cryptocurrency has seemingly entered overbought levels.
One trader shared the chart below on August 9th, writing that "LINK looks toppy here." He pointed to a bearish divergence that has formed on the asset's one-hour chart. The divergence implies that bulls are losing strength despite prices pushing higher.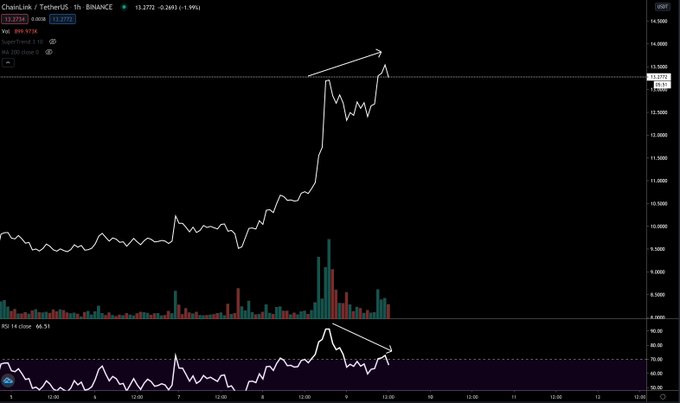 Chart of LINK's recent price action with a divergence analysis by trader "CG" (@macroCRG on Twitter). Chart from TradingView.com
The caution was echoed by another trader, Josh Olszewicz of Brave New Coin. The cryptocurrency analyst noted that with LINK now trading three times above its one-year moving average, it is entering the "overbought phase" of the ongoing parabolic expansion.
Last time the cryptocurrency traded above this technical level as in the middle of 2019. Then, Chainlink saw a blow-off top that resulted in a ~60% correction in the three months that followed that high.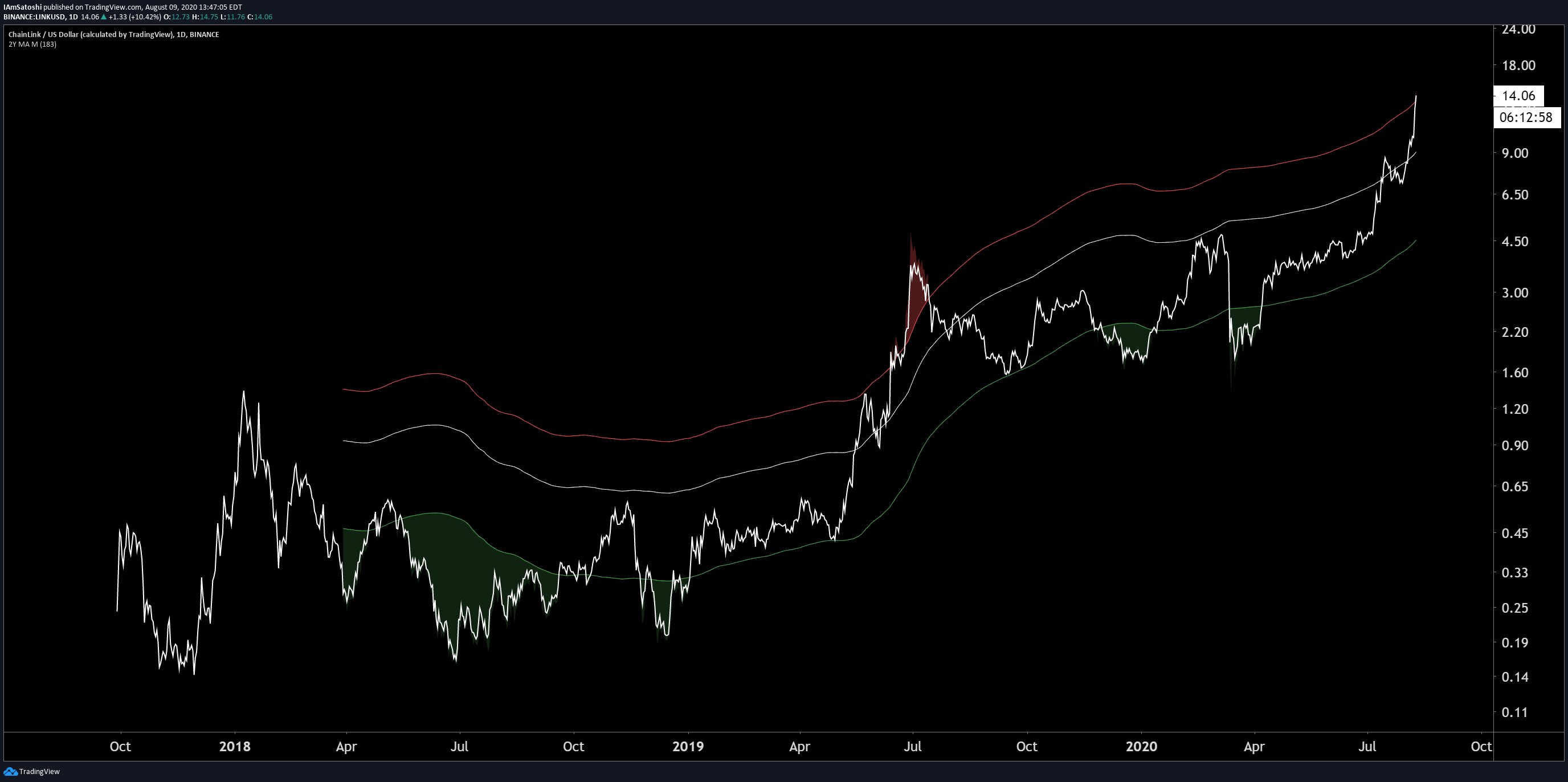 Chart of LINK's price action with a one-year moving average band from trader Josh Olszewicz. Chart from TradingView.com
Bullish for Bitcoin?
Chainlink retracing (if it does) is likely to boost Bitcoin and Ethereum.
Although LINK does trade against stablecoins in some markets, cryptocurrency traders are known to cycle their altcoin profits into major "reserve" assets of the space like BTC and ETH. If this happens with LINK or other altcoins, Bitcoin and Ethereum could see massive capital inflows, pushing prices higher.
Qiao Wang, a former head of product at Messari and a crypto trader, has touched on the narrative of how altcoin rallies can boost Bitcoin. He recently wrote:
"After a pretty ridiculous breakout in the DeFi sector and making it to mainstream media, get ready for the next leg up in the majors. The retail and dumb institutional psychology is that the majors are decent proxies for the individual sectors. An 'index play'."
Don't see a huge amount of risk until the election TBH. So maybe get a bit more conservative in September/October.

— Qiao Wang (@QWQiao) August 8, 2020
How far Bitcoin rallies off an influx of capital from altcoin traders, though, remains to be seen.
Featured Image from Shutterstock
Price tags: linkusd, linkbtc
Charts from TradingView.com
Analysts Expect Chainlink (LINK) Reversal After 50% Eruption to $14
Source: https://bitcoinist.com/analysts-chainlink-link-reversal-after-eruption-14/?utm_source=rss&utm_medium=rss&utm_campaign=analysts-chainlink-link-reversal-after-eruption-14
Bitcoin Could Remain Slow Until the November Election
Bitcoin is presently trading for about $10,500, which is roughly $100 more than where it's stood over the past few days, but it's not quite where we'd like it to be. The fact is that bitcoin hit $11,000 again about 72 hours ago and has failed to keep up that momentum.
Bitcoin Is Struggling as of Late
There are many things that appear to be affecting bitcoin, one being the correlation between it and the stock market. As stocks are taking massive tumbles, bitcoin is also suffering, and so long as company shares continue to drop, the bitcoin market is going to remain in a bearish state.
There's also the current political scene. As we all know by now, 2020 is an election year. There is just a little over a month left to go before America selects its next president for the next four years. Will the democratic contender Joe Biden come out on top, or will Donald Trump emerge as the country's president through 2024? Either way, the situation is leading to heavy uncertainty throughout the nation, and many people don't quite know how to react.
In addition, the death of Supreme Court Justice Ruth Bader Ginsburg is also adding to the concern and worry that are allegedly permeating people's thoughts regarding the economy. Guy Hirsch – the managing director for cryptocurrency exchange e-Toro – explained in a recent interview:
Uncertainty around the election and in the aftermath of Supreme Court Justice Ruth Bader Ginsburg's death has caused a panic in equities markets. When traditional assets nosedive as they have today, traders will often liquidate a broad cross-section of holdings while they try to cover liabilities, thus leading bitcoin to drop even more sharply today than any of the major equity indices in the US.
John Todaro – the director of institutional research at Trade Block – appears to agree, though he commented further that the continual drop of standard assets could potentially help bitcoin's reputation further. With everything else in the red, people may turn to bitcoin as a hedge tool, and bitcoin could potentially return to form in the coming months.
He states:
You are seeing this spread across markets, including in digital currencies. Despite this drop, especially if uncertainty continues and markets become even more nervous about how the US election will play out, it makes sense if bitcoin were to see a significant recovery as equities continue to experience downward momentum.
Will Things Fix Themselves Over the Next Few Months?
Joe DiPasquale – CEO of Bit Bull Capital – mentioned that while the correlation between stocks and crypto has grown, he's confident bitcoin and digital currencies have what it takes to break away and potentially enter bullish territory all on their own. He says:
While bitcoin's correlation with the S&P 500 grew notably in recent months, the digital asset space remains highly volatile and able to decouple from traditional assets equally fast.
Tags: bitcoin, election, Ruth Bader GInsburg Source: https://www.livebitcoinnews.com/bitcoin-could-remain-slow-until-the-november-election/
This Bitcoin metric is reaching its historical reversal levels
Bitcoin and Ethereum have shared the center stage at regular intervals this year. In fact, some would argue that Ethereum has run more miles and gotten more attention than BTC this year. Such a scenario was playing out in the markets as well. Over the course of certain bullish spells in 2020, most particularly during July-end, Ethereum led the market with its rally before Bitcoin joined in 48 hours later. Such a brief spell was also observed during the last week of May.
However, at the time of writing, the going was getting tough, and the collective market was expecting 'tough' Bitcoin to lead them out of this drawdown period. Such expectations can be highlighted by observing the charts below.
As can be observed from the chart, the 3-month Ethereum-Bitcoin Implied Vol Spread was dropping after peaking in mid-August. It means that the market is currently expecting Bitcoin to bring back the volatility, rather than keeping their hopes on Ethereum. This is interesting since, for most of 2020, the ETH-BTC Implied Volatility had witnessed a lead from Ethereum's end, especially with respect to bringing price action to the market.
However, with the market reaching a probable local bottom, all eyes are now set on Bitcoin, with most expecting BTC to drive the market's valuation.
The Realized Volatility charts suggested a similar narrative. With the 3-month ETH-BTC realized spread on an incline, it is clear that BTC is already becoming more authoritative in the digital market space. Such a situation will definitely allow market correlation to climb over the next few months, with BTC possibly calling the shots in Q4 of 2020.
Bitcoin ATM Implied Volatility reaching historical reversal levels
With the limelight firmly placed on BTC, the market might not have to wait long before BTC starts pulling the strings again. The market narrative is supported by the fact that BTC's 1-month ATM Implied Volatility was at 49%. For Bitcoin, the IV going below 50% has always been a sign of a reversal in the market. In light of its present levels, the stage is seemingly set for Bitcoin to project strong movements any time now.
However, it would be better if the Implied Volatility drops further over the next few weeks to attain a strong bottom, one that will eventually lead to a stronger rally. Altcoins can do a lot when it comes to bringing new users into the space, but at the end of the day, the market will always look up to BTC to solve its bearish dilemma.
Source: https://eng.ambcrypto.com/this-bitcoin-metric-is-reaching-its-historical-reversal-levels
Crypto ETP Trading Volumes Plunged 74% Over the Last Month
Cryptocurrency exchange-traded product (ETP) trading volumes have plunged over 74% in the last month, as the prices of these products have also been dropping. According to cryptoasset data aggregator CryptoCompare, in its newly launched The Digital Asset Management Review, exchange-traded products dropped 74% over the last month from $186.5 million in mid-August to an average […]
Cryptocurrency exchange-traded product (ETP) trading volumes have plunged over 74% in the last month, as the prices of these products have also been dropping.
According to cryptoasset data aggregator CryptoCompare, in its newly launched The Digital Asset Management Review, exchange-traded products dropped 74% over the last month from $186.5 million in mid-August to an average of $48 million in mid-September.
An exchange-traded product, it's worth noting, is a type of security that tracks other underlying securities or an index. The document notes that Grayscale's Bitcoin Trust product, GBTC, represented the "vast majority" of ETP volume and as such accounts for most of the decrease in trading activity.
The top three ETPs were Grayscale's Bitcoin product, and its Ethereum Trust (ETHE and Ethereum Classic Trust (ETCG), and traded a combined $180 million per day in mid-August, and just over $40 million per day in mid-September.
Throughout the last 30 days, CryptoCompare adds, crypto ETP trading activity generally declined. If we exclude over-the-counter products – like GBTC, ETHE, and ETCG – the largest product was ETCGroup's Bitcoin ETP (BTCE), which traded o Deutsche Boerse XETRA. Other large cryptocurrency ETPs include 3IQ's QBTC product which trades on the Toronto Stock Exchange and BTCW by WisdomTree which trades on Six Swiss Exchange.
Over the last 30 days, Grayscale's BTC and ETH products represented the largest average daily trading volumes at $49 million and $7.4 million respectively. These experienced significant losses over said period, dropping 20.4% and 43.4% respectively.
After Grayscale's products, which often trade at a premium compared to their underlying assets, BTCE saw average trading volumes of $864,000 and experienced a near 9% drop over the last month.
It's worth noting that the price of most top cryptocurrencies, including bitcoin and ether, dropped significantly over the last 30 days after BTC saw a breakout above $12,000 get rejected.
Featured image via Pixabay.