Ethereum 2.0 Testnet Performing Well, 1 Million 'ETH' Staked
It's been almost a week since the launch of the ETH 2.0 final public testnet, which has been performing as intended by most accounts. As many as one million ETH have been staked on the Beacon Chain simulation, reviving hopes of a mainnet launch later this year. The Medalla ETH 2.0 testnet has been running […]
The post Ethereum 2.0 Testnet Performing Well, 1 Million 'ETH' Staked appeared first on BeInCrypto.
It's been almost a week since the launch of the ETH 2.0 final public testnet, which has been performing as intended by most accounts. As many as one million ETH have been staked on the Beacon Chain simulation, reviving hopes of a mainnet launch later this year.
The Medalla ETH 2.0 testnet has been running for six days which has given developers a chance to monitor early progress. Launched on Aug 4, Medalla is the fifth and final testnet for the long-awaited upgrade to an Ethereum proof-of-stake consensus.
Phase 0 testing began in April with the first Topaz testnet. Since then the staking levels, validator count, and the number of clients have increased on the network. Medalla represents the closest thing to a final simulation of Beacon Chain.
According to the official Medalla Launchpad, over one million GöETH (simulated ETH for the Göerli testnet) have been staked.
Ethereum protocol developer, Terence Tsao [@terencechain], acknowledged the achievement:
However, the Beacon Chain tracker reports a lower figure of around 800,000 GöETH staked at the time of press. There are slightly fewer than 25,000 validators with nearly 5,000 more pending according to the tracker.
No actual Ethereum is used in the testing as it is purely a simulation, meaning that no real staking rewards have been paid out yet. Since the launch, there have been approximately 582 GöETH earned by validators.
Medalla Making Progress
ConsenSys researcher, Ben Eddington, has posted an update to last week's events.
He stated that the launch itself was a little anticlimactic. Initial participation by validators was low, taking around 7 epochs, or approximately 40 minutes before the chain first finalized.
Eddington added that it was not that big a deal but may need to be addressed for the real launch:
To improve some of these issues for the Mainnet launch, we're looking at increasing the genesis delay from its current 48 hours, to 96 hours, or even a week. This buffer will allow everyone to get their ducks in a row.
The researcher confirmed that everything has been running well since the launch and client teams have issued updates to address various issues. The write-up also includes a number of guides on how to set up your own ETH 2.0 testnet node.
Attacknets, which welcome hacks and exploits in order to search for vulnerabilities are a big part of the testing process. A nine-year-old bug in one of the Prysm clients was already discovered by one hacker and rewards of up to $15,000 are up for grabs for those that manage to successfully exploit the code.
Prysmatic Labs, which provides one of the most popular ETH 2.0 clients, also published its own summary of the week's events.
It spent a lot of time and effort updating wallets and the client software for compatibility and interoperability. Prysm supports three different kinds of wallets, a remote server sign-in wallet, a non-HD wallet where accounts are password protected and imported from an external source, and an HD wallet which is generated from a mnemonic phrase enabling new accounts to be created deterministically.
Naturally, there were a few synchronization bugs to be ironed out and the client software developers highlighted them in the report. It added that a graphical user interface has been one of the most requested features from ETH 2.0 validators and one is in the pipeline:
Our goal is to have a password-protected local interface you can use to manage your validator accounts, view your validator's performance, and look at process analytics as needed.
ETH 2.0 Client Diversity Issues
Prysmatic Labs are clearly proud that its client is the most popular, but it does lead to a diversity issue.
According to Ethernodes.org, the Prysm client accounts for 66% of the total, with just under 24% using Lighthouse, and the remainder working with the other participating clients.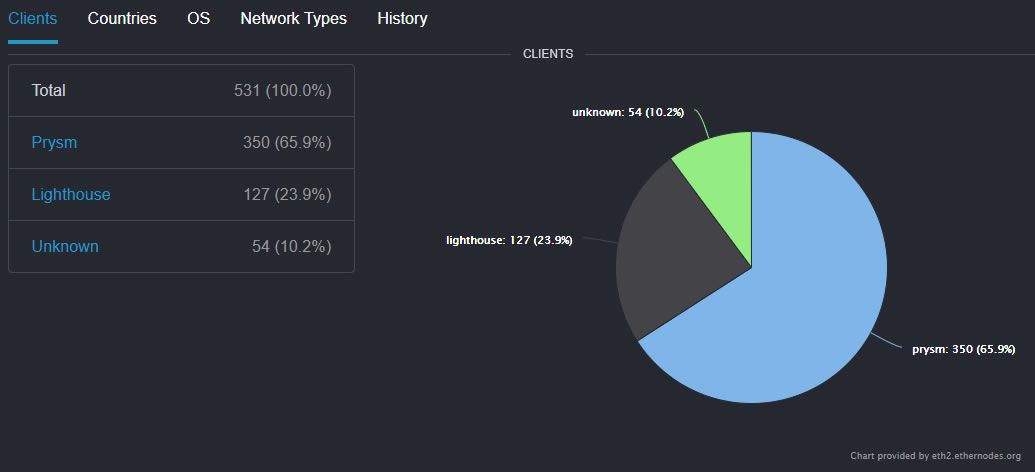 Breaking down the validators geographically revealed that 31.1% of active network peers are located in the U.S., with second place going to Germany at 21.7%, and the UK coming in third at 5.6%.
There was very little participation from Asian nations, with only a few percent being split across Singapore, South Korea, Japan, and China.
Ideally, client diversity needs to be expanded before a full launch.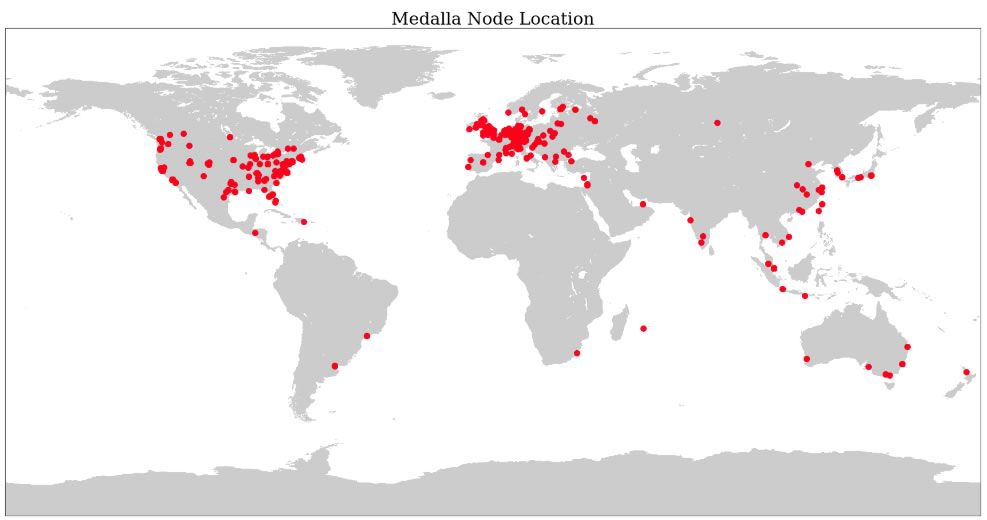 Due to the U.S. being dominant in the testing phase, it was no surprise that looking at a plot revealing network reliance on ISPs and cloud providers, Amazon Inc. providers dominated.
ETH Price Update
Ethereum prices have briefly tapped the psychological $400 barrier again a handful of times over the weekend but failed to close over the level.
At the time of press, ETH was building on the momentum from a Sunday swing-low and is trading hands at $396.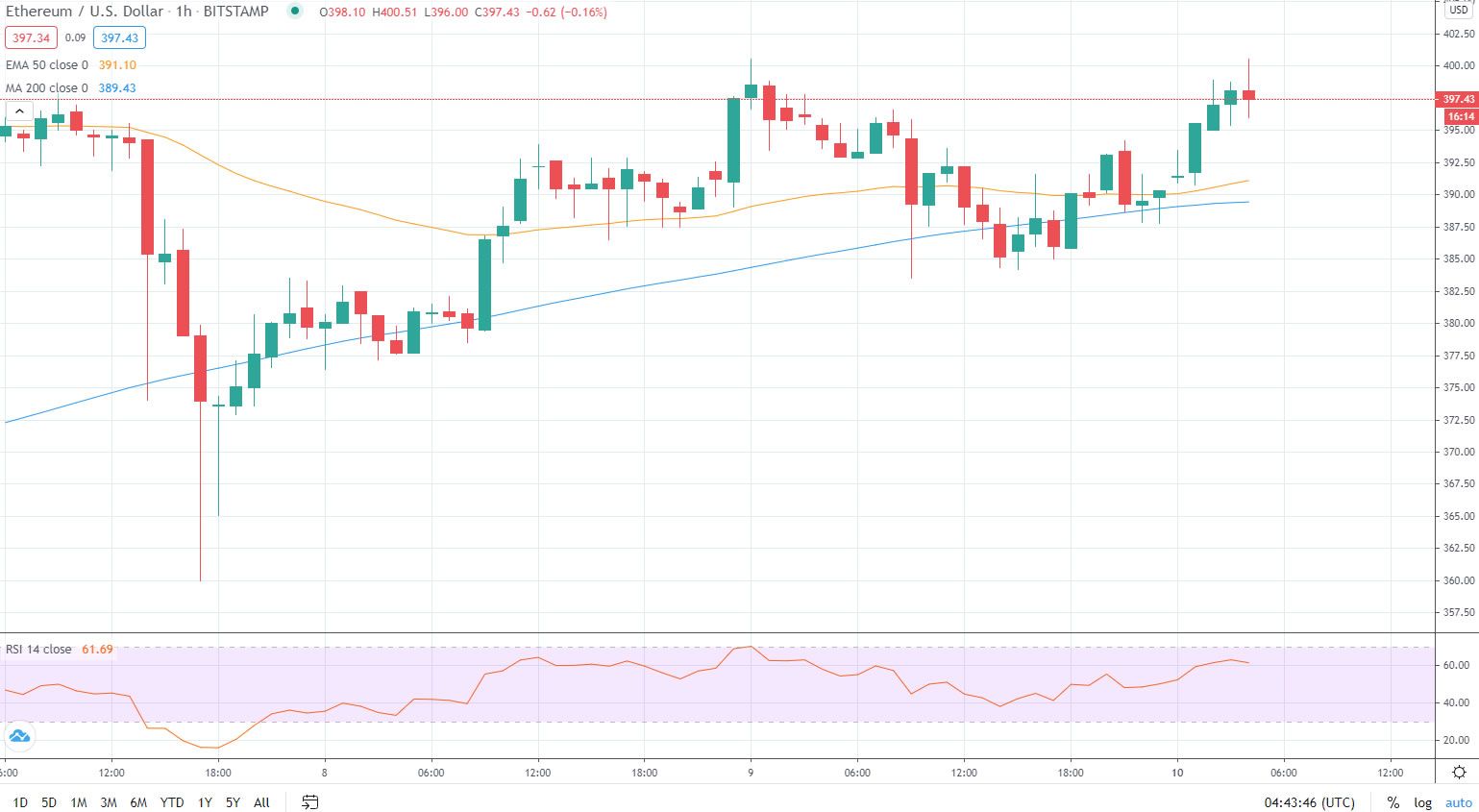 So far this month, Ethereum has managed to hold on to its gains and is still up 66% since the same time last month. A fall back to those levels is highly unlikely, however, a short-term pullback has been anticipated.
On-chain metrics, on the other hand, suggest that Ethereum is still undervalued.
The recent Medalla-induced momentum has been a long time coming for ETH holders but its price action going forward is likely to be a product of Bitcoin's movements. With BTC just registering its highest weekly close in two-and-a-half years, the bulls are definitely ready to run, and this will likely only benefit Ethereum even further.
Bullish? On-Exchange Bitcoin Declines While Whales Accumulate (Report)
A recent report suggests that the amount of Bitcoin stored on exchanges is declining while BTC whales increase their holdings and that's bullish for Bitcoin's price.
The paper also highlighted that investors have a much larger time horizon for their holdings now compared to previous years.
Bitcoin Stored On Exchanges Drop
In its latest report shared with CryptoPotato on Bitcoin investors' behavior, the popular research company Digital Delphi explored the number of bitcoins stored on cryptocurrency exchanges. The document indicated that if the BTC stock on platforms increases, it could put sell pressure.
However, this isn't necessarily the case during bull runs, as retail investors often "leave BTC on exchanges and traders use BTC as margin collateral." Alternatively, in case the asset price rises while the stock on exchange decreases, this typically implies an accumulation trend.
The report indicated that Bitcoin stored on exchanges marked an all-time high of 2.96 million in mid-February. Since then, the trend has reversed, and the number has dropped to below 2.6 million.
Digital Delphi argued that the reason behind this decrease of BTC on exchanges is because investors are most likely preparing for a longer-term holding period. More importantly, though, the paper highlighted a substantial decline in speculative trading interest in Bitcoin, while the HODLing mentality has increased.
"Unlike the 2019 price uptrend, which coincided with BTC stock increasing, this current trend has seen a divergence between BTC stock and price. This suggests a more sustainable move upwards for BTC, in comparison to that of 2019, as data indicates a holder base with longer time horizons."
Bitcoin Whales Haven't Slowed Down Accumulating
Digital Delphi's data reaffirmed previous reports that Bitcoin whales, meaning addresses containing between 1,000 and 10,000 BTC, continue to accumulate large portions. The company outlined that whales have been on a shopping spree since the start of 2020, as their holdings have increased by 9% YTD.
Moreover, the US Federal Reserve's actions to print extensive amounts of dollars since the start of the COVID-19 pandemic have accelerated whales' accumulations.
"Since the USD M2 supply expansion in March, there has been a 7% increase in whale holdings."
According to the document, this only emphasizes the narrative that Bitcoin serves as a hedge against dollar inflation, and "the smart money is clearly betting on this." It's worth noting that prominent US investor Paul Tudor Jones III purchased BTC earlier this year to protect himself against precisely the rising inflation.
SPECIAL OFFER (Sponsored)
Binance Futures 50 USDT FREE Voucher: Use this link to register & get 10% off fees and 50 USDT when trading 500 USDT (limited – first 200 sign-ups & exclusive to CryptoPotato).
Click here to start trading on BitMEX and receive 10% discount on fees for 6 months.
---
Source: https://cryptopotato.com/bullish-on-exchange-bitcoin-declines-while-whales-accumulate-report/
US Crypto Tax Avoiders Beware: The IRS Updates 1040 Tax Form
The Internal Revenue Service (IRS) seems to have found a way to block crypto tax evasion, following an update of its tax form.
IRS: No Excuses for Crypto Traders
According to the Wall Street Journal on Friday (September 25, 2020), the IRS is planning to alter its 1040 tax form. The revised tax form will see cryptocurrency holders give a straight answer about their crypto activities.
The IRS has been relentlessly pursuing crypto investors to disclose transactions, as it suspects that many taxpayers were guilty of tax evasion. However, the tax administrator looks like it has found a way to make all Bitcoin holders accountable.
Presently, the tax form will mandate crypto traders to answer a" yes or no" to the following question:
"At any time during 2020, did you receive, sell, send, exchange or otherwise acquire any financial interest in any virtual currency?"
What makes the update interesting is the placement of the above question. Prior to the revised tax form, the question appeared in a section where taxpayers were not mandated to fill the answer. However, the question's position in the altered tax form just below the taxpayer's name and address leaves no room for excuses or oversight on the part of the crypto trader.
Reacting to the altered form of 1040 was Ed Zollars:
"This placement is unprecedented and will make it easier for the IRS to win cases against taxpayers who check 'No' when they should check 'Yes"
There have been complaints in the past about the lack of a robust regulatory framework for crypto tax filings. In October 2019, the IRS published new tax guidelines that would supposedly make it easier for crypto investors to file taxes. The U.S. tax agency also sent reminder letters to crypto holders. Earlier in September, the IRS announced a payment of $625,000 to anyone who could crack Monero and Bitcoin's lightning network.
Governments Keen on Crypto Taxation
While the IRS seems to have devised a means to trap crypto holders, more countries are introducing crypto tax laws and clamping down on offenders.
As reported by CryptoPotato in April, Spain's tax administrator sent out notices to 66,000 crypto investors, as against the 14,000 notices sent in 2019. South Korea, on the other hand, has been unsteady about taxing cryptocurrency.
Earlier in 2020, South Korea's Ministry of Finance and Strategy revealed that there were no intentions to tax crypto profits. However, reports emerged that the Ministry was considering imposing a 20% tax on profits from crypto trading. In June, the country's Finance Minister called for the imposition of tax on cryptocurrency trading gains.
Australia's tax agency, the Australian Taxation Office (ATO), sent out reminders to 350,000 crypto traders in March about their tax obligations. According to the ATO, crypto investors were to keep a comprehensive record of their trading activities for ease of tax payment.
SPECIAL OFFER (Sponsored)
Binance Futures 50 USDT FREE Voucher: Use this link to register & get 10% off fees and 50 USDT when trading 500 USDT (limited – first 200 sign-ups & exclusive to CryptoPotato).
Click here to start trading on BitMEX and receive 10% discount on fees for 6 months.
---
Source: https://cryptopotato.com/us-crypto-tax-avoiders-beware-the-irs-updates-1040-tax-form/
Chinese State Media Report: Cryptocurrencies Are The Best-Performing Assets Of 2020
Although China still categorizes Bitcoin and other cryptocurrencies as illegal, several state-owned media outlets purportedly ran reports describing them as the best-performing assets since the start of the year.
Bitcoin And Crypto Run On Chinese Media
A popular state-owned media under the name Xinhua News Agency set the tone yesterday by citing a Bloomberg report titled "crypto is beating gold as 2020's top asset so far." Apart from summarizing Bloomberg's narrative, Xinhua added that cryptocurrencies are "decentralized financial instruments" and concluded that they have become "the best performing asset class this year."
Another digital asset coverage followed today on China Central Television (CCTV) – among the most popular broadcasting services in the nation. In a three-minute-long video clip, CCTV spoke about cryptocurrencies and emphasized on their year-to-date performance. More specifically, the clip focused on their 70% price increase this year.
According to a popular cryptocurrency commentator Dovey Wan, this "interesting propaganda" spread out among other outlets, being featured on all "avenues, newspapers, online media, and TV." The advertised narrative was the same – that digital assets have been outperforming all other investment instruments.
Binance CEO Changpeng Zhao commented that people might not understand the significance behind this coverage, but "it is big."
However, Wan raised a compelling question – what's the real intention behind this move? After all, cryptocurrencies remain banned for official usage within the world's most populated nation. She speculated that this coverage might have something to do with the Chinese central bank digital currency that's reportedly being tested.
China Behind The Price Pump?
As CryptoPotato reported earlier today, green dominated the cryptocurrency field with the total market cap increasing by about $20 billion since yesterday.
Historically, news and announcements from China have undoubtedly impacted prices. As such, it wouldn't be a surprise that the two-day media coverage promoting cryptocurrencies as the best-performing assets in 2020 has affected the market to some extent.
In late 2019, President Xi Jinping urged the country to accelerate its blockchain adoption. In the next few hours, the cryptocurrency field experienced some of its most impressive price pumps in history. Bitcoin alone skyrocketed by 42% in hours.
Less than a month later, country officials clarified that being pro-blockchain didn't mean a positive attitude on cryptocurrencies. After reaffirming that digital assets are still illegal, their value plummeted in response.
SPECIAL OFFER (Sponsored)
Binance Futures 50 USDT FREE Voucher: Use this link to register & get 10% off fees and 50 USDT when trading 500 USDT (limited – first 200 sign-ups & exclusive to CryptoPotato).
Click here to start trading on BitMEX and receive 10% discount on fees for 6 months.
---
Source: https://cryptopotato.com/chinese-state-media-report-cryptocurrencies-are-the-best-performing-assets-of-2020/