Something "unexpected" will need to happen to stop the Bitcoin rally: Bloomberg analyst
Bitcoin has begun to lose grip of the bullish uptrend it was embroiled in. According to CryptoSlate market data, the leading cryptocurrency has slipped 2.5 percent in the past 24 hours, trading at $11,720 as of this article's writing. This is around $700 shy of the $12,500 high BTC reached earlier this week.
This retracement has put some investors on edge, especially considering the importance of $12,000 to Bitcoin's recent price action. If you peruse Twitter, you will likely find a number of commentators from analysts mentioning that BTC is on the verge of plunging towards the $10,000s, then lower.
Mike McGlone, a senior commodity analyst at Bloomberg Intelligence, though, begs to differ.
He expects for Bitcoin to continue appreciating on a medium to long-term time frame in spite of the recent price weakness.
Bitcoin set to continue price uptrend: Mike McGlone of Bloomberg
Bitcoin is expected to continue its macro uptrend despite the recent weakness, McGlone wrote in an analysis published on Aug. 19.
He shared this chart below, which shows that Bitcoin's macro Bollinger Bands are at historic lows. The Bollinger Bands is a technical indicator that denotes volatility and important technical levels for an asset.
According to McGlone's chart, Bitcoin volatility is starting to stretch higher as the price is poised to exit the upper Bollinger Band. This suggests that the cryptocurrency is on the verge of starting a longer-term rally.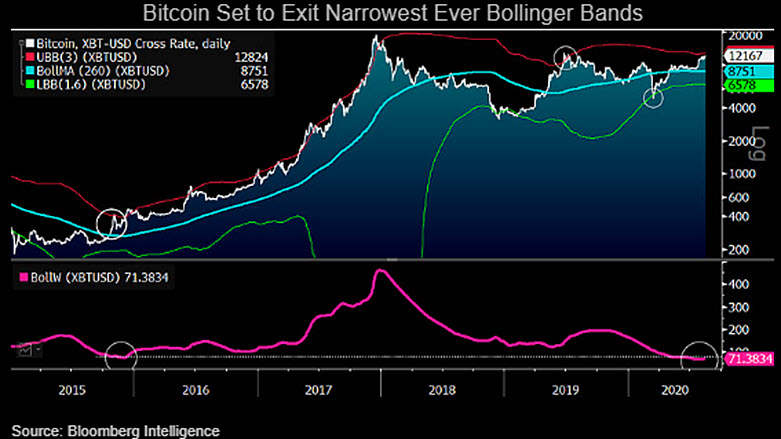 The Bloomberg analyst also added that the fundamentals remain in favor of Bitcoin price appreciation:
"Bloomberg Intelligence Commodity Primer – Something unexpected needs to happen for #Bitcoin's price to stop doing what it's been doing for most of the past decade: appreciating. Demand and adoption metrics remain favorable vs. the #crypto asset's unique attribute of fixed supply."
Not the only bull
McGlone's recent comment on Bitcoin's case for upside comes as a number of other analysts and investors have asserted that the leading cryptocurrency remains in a positive state.
Bitcoin proponent "Vortex" noted this week that there are four key metrics showing Bitcoin is on the verge of a "multi-year" bull run:
"All these charts resembling early 2017 patterns indicating Bitcoin is beginning a multi-year bull run: -Segwit adoption reaches new ATH -HR [hash rate] reaches new ATH -BTC not moved in 1+ yrs still at ATHs at over 63% -Google trends building."
Derivatives data also indicates that there has been an influx of institutional capital into the cryptocurrency market, a trend that Ikigai's Travis Kling describes as "wildly bullish."
Like what you see?
Subscribe for daily updates.
Source: https://cryptoslate.com/something-unexpected-will-need-to-happen-to-stop-the-bitcoin-rally-bloomberg-analyst/
Audio Streaming Mogul Spotify Considering Cryptocurrency Payments
Joining the tech and financial services bigwigs in the payments revolution, Spotify too is going the crypto way. The Swedish audio streaming and music services giant just put up a job offer for an Associate Director, Payments Strategy & Innovation. The desired candidate will play a key role in 'navigating the company's payments rudder' through the cryptocurrency ecosystem.
Spotify Looking To Be A 'Leading Player In The Cryptocurrency Space'
As per an official job opening that Spotify just posted, the company is looking for an Associate Director for their Payments Strategy & Innovation Team. The said individual would report to the Director of the same team. And will be instrumental in Spotify gaining a considerable foothold wrt integration of cryptocurrency payments. According to the description:
We are now looking for an outstanding Associate Director to join our Payments Strategy & Innovation team. This role will report to the Director, Payments Strategy & Innovation and will play a key part in defining and implementing Spotify's payments strategy as well as leading Spotify's activity within the Libra stablecoin project and wider digital asset & cryptocurrency space.
The objective is to address the company's plan of 'enabling new monetization opportunities' for music creators. Also, Spotify wants its platform to become accessible to a larger section of potential users.
Spotify intends to inculcate all the latest fintech trends in their payments strategy, including cryptocurrencies. So that users from all sections of the society can access the music streaming platform.
Crypto Agenda Involves Libra As Well
One of the designated roles of the incoming Associate Payments Strategy Director would be to lead 'Spotify's day-to-day engagement with the Libra Association.' This is due to the ongoing alliance of the company with Facebook's digital currency project.
Along with this, the company is looking to leverage all the blue-chip aspects of the blockchain and cryptocurrency space. This includes stablecoins and Central Bank Digital Currencies (CBDCs). It is to streamline its transition to the most advanced payment methods available in finance at the moment.
The Associate Payments Strategy Director would be required to fulfill the above roadmap by making use of
Spotify's global footprint to seek out innovation in the payments domain globally as well as emerging regulatory & market trends that could influence Spotify's approach to payments.
Through all the above, the company actually intends to elevate its 'reputation as a market leader in payments', the website said. And give giant payments players like PayPal a run for their money.
SPECIAL OFFER (Sponsored)
Binance Futures 50 USDT FREE Voucher: Use this link to register & get 10% off fees and 50 USDT when trading 500 USDT (limited offer).
PrimeXBT Special Offer: Use this link to register & enter CRYPTOPOTATO35 code to get 35% free bonus on any deposit up to 1 BTC.
---
Source: https://cryptopotato.com/audio-streaming-mogul-spotify-considering-cryptocurrency-payments/
India Reportedly Plans to Tax Crypto Investors As Bitcoin Price and Trading Activities Soar
Barely ten months after the Indian Supreme Court lifted the RBI's ban on cryptocurrency transactions, fresh reports from yesterday revealed that the country's tax authority is now keeping a close watch on crypto traders as Bitcoin's price continues its bullish trend.
Taxing Crypto Gains
According to local media, the Indian Tax Department is already in possession of data belonging to investors who invested in Bitcoin or cryptocurrencies through banking channels before the RBI's ban in 2018.
This development is coming after data shows a tremendous increase in crypto trading activities in India. Since the crypto ban was lifted earlier this year, retail investors between the ages of 25 and 40 have been spending millions of dollars on crypto trading every day.
Over $25 Million Daily
Two of India's largest crypto trading platforms, Binance-acquired WazirX and CoinDCX, saw a significant increase in activities over the last six months. According to an earlier report, WazirX recorded a massive 125% increase in user signups in the last two quarters. The exchange also has a daily trading volume of $19-26 million, with more than 85% of the transaction coming from Indian traders.
Some experts believe it will be difficult for the country to tax crypto because there's no regulation in place for crypto dealings. They feel a regulatory framework will provide the needed clarity to make taxation easier. While India is yet to release its crypto regulation, an earlier report suggests that the country may regulate crypto as commodities.
Declaring Bitcoin Profits As Capital Gains
Although it is unclear how India plans to implement the tax law, sources familiar with the matter claimed that the country's taxman is already preparing to collect tax on the gains made from Bitcoin. And notice may be sent out to investors if "something goes out of this."
Experts believe that the tax authorities may classify crypto gains as business income, and investors may have to pay up to 30% tax on profits made from selling cryptocurrencies.
However, some tax experts are advising their clients to declare their Bitcoin earnings as capital gains, which is similar to profits generated from shares.
SPECIAL OFFER (Sponsored)
Binance Futures 50 USDT FREE Voucher: Use this link to register & get 10% off fees and 50 USDT when trading 500 USDT (limited offer).
PrimeXBT Special Offer: Use this link to register & enter CRYPTOPOTATO35 code to get 35% free bonus on any deposit up to 1 BTC.
---
Source: https://cryptopotato.com/india-reportedly-plans-to-tax-crypto-investors-as-bitcoin-price-and-trading-activities-soar/
Why you should look forward to Anyswap in 2021
Although a lot has happened in the blockchain ecosystem in 2020, by far the most significant development has been the rise of DeFi. Decentralized Finance solutions have reinvigorated the altcoin market and revolutionized the world of cryptocurrencies as a whole. The Decentralized Finance market keeps expanding and there's no end in sight to the DeFi phenomenon. Since Decentralized Finance is expected to grow even further in the upcoming year, it's time to take a look at some of the most promising DeFi trends for 2021.
The main reason for the ever-increasing popularity of Decentralized Finance is the profitability of DeFi projects. Solutions such as yield farming took the crypto community by storm because they allow the investors to earn income on a day-to-day basis, instead of passively holding tokens in a wallet and hoping that one day they will appreciate in value.
The DeFi ecosystem is very diverse, and it is constantly evolving. To ensure maximum profitability of investments, it's essential to identify the most promising trends while they are still underappreciated. The Decentralized Finance market is always changing, so serious investors need to pay attention to trends before they become mainstream.
On this list, you will find the top 3 most promising DeFi trends for 2021: security-enhancing solutions, decentralized exchanges and Non-Fungible Tokens. These three trends were selected because they seem to have the most potential and the most room to grow in the upcoming year.
1. Security Enhancing DeFi Solutions
The rapid expansion of the DeFi market in 2020 was probably the most important event to happen in the crypto ecosystem in years. New DeFi projects were being introduced to the community every day, and the total capitalization of the Decentralized Finance ecosystem was growing at an incredible pace. But as DeFi was becoming more and more popular, some problems began to happen.
Unfortunately for investors, not all DeFi projects proved themselves to be genuine, and as the DeFi boom was gaining momentum, security issues, hacks and other incidents started to become increasingly common. The Harvest Finance (FARM) hack made investors lose funds worth $34 million, the Eminence (EMN) hack caused people to lose $18 million, and the SushiSwap exit scam cost investors $13 million – and these are just the most famous DeFi related incidents that happened in 2020.
The users of decentralized exchanges such as Uniswap were also subjected to security breaches, in particular in the form of flash loan attacks. Because of insufficient security measures, hackers were able to steal millions of dollars worth of investors' cryptocurrency.
People who are serious about the safety of their funds started to look for more secure alternatives to Uniswap. The most promising one is definitely Anyswap: a completely decentralized cross-chain swap platform powered by the Fusion (FSN) token. The Fusion protocol specializes in providing cross-chain, cross-organization, and cross-data source solutions aimed at enhancing the security of blockchain-based financial operations.
One of the reasons why Anyswap is quickly gaining popularity over less secure alternatives is Fusion's DCRM (Distributed Control Right Management): a set of advanced algorithms that form a complete security layer that greatly improves the security of digital assets stored on the Fusion blockchain. Features of Fusion's DCRM technology – such as the decentralized storage and sharding of private keys – make sure that nobody can gain control over investors' funds, which greatly improves the security of Anyswap.
It's safe to say that DeFi related hacks will not suddenly disappear, and as the Decentralized Finance market will keep growing, security-related incidents will probably become more common. Because of that, it's very likely that more and more people will turn away from less secure solutions, and turn to platforms like Anyswap, which are designed to provide the maximum security for users' funds. With all that in mind, it's very probable that the rise of security-oriented Decentralized Finance solutions will become the most significant DeFi trend of 2021.
2. Decentralized Exchanges
Decentralized exchanges (DEXs) have been around for a long time, but they used to be considered a novelty existing on the fringes of the crypto world, as the market was dominated by big centralized exchanges such as Binance and Coinbase. The rise of Decentralized Finance changed the blockchain ecosystem forever and made DEXs massively popular.
Centralized exchanges didn't want to miss the opportunity provided by the DeFi boom, so they started to offer limited DeFi support and list some DeFi tokens. However, most people who want to invest in Decentralized Finance solutions still prefer to use decentralized exchanges, since DEXs like Anyswap or Uniswap allow the investors to purchase innovative DeFi tokens while they are still greatly undervalued, and the investment is most profitable.
The DeFi market keeps expanding, so it's safe to assume that the continued expansion of decentralized exchanges can be one of the most promising DeFi trends to expect in 2021. DEXs have already gained massive popularity in 2020, but there's definitely still a lot of room for growth.
One of the aspects in which decentralized exchanges like Uniswap were looking less attractive than major centralized exchanges such as Coinbase and Binance is security. Investors using centralized exchanges have so far been less likely to be subjected to hacking attacks and other similar incidents.
Decentralized exchanges that utilize military-grade security enhancements such as Anyswap are gaining popularity and their growth seems to be the most important DeFi trend to keep an eye on in 2021. Anyswap proves that DEXs can be even more secure than centralized exchanges, and the implementation of advanced safety-improving technologies such as Fusion's DCRM will likely cause decentralized exchanges as a whole to become more and more popular in the upcoming year.
3. Non-Fungible Tokens
Non-Fungible Tokens have been around for quite some time, with the first NFT project CryptoPunks launching in 2017. But aside from the well-known CryptoKitties, none of the NFTs have managed to gain widespread popularity. This situation however has begun to change with the rise of DeFi, and currently, the projects involving Non-Fungible Tokens are starting to gain momentum again.
In simple terms, Non-Fungible Tokens are the digital equivalents of traditional trading cards and other collectibles. Most of the projects utilizing NFTs are based on the Ethereum network, but instead of using the ERC-20 token standard, they employ the ERC-721 standard, designed specifically to accommodate digital rarities such as Non-Fungible Tokens.
Traditional tokens such as ERC-20 are created to be used as digital currencies. Every token is the same, just as every dollar on your bank account is the same as every other dollar in existence. NFTs on the other hand are unique, and can be compared to works of art such as paintings. Just as with real-life works of art and collectibles, NFTs can reach very high prices, and some of them are being traded for tens or even hundreds of thousands of dollars.
Although Non-Fungible Tokens have been considered a mere novelty for some time, the rise of Decentralized Finance solutions opened new possibilities for NFTs. Leading DeFi projects such as Yearn.Finance started offering enhanced NFT functionalities, such as the ability to insure digital collectibles. The combination of Decentralized Finance and Non-Fungible Tokens may prove very attractive to investors, and become one of the most promising DeFi trends in 2021.
Conclusion
For most people, 2020 was a very weird year. For cryptocurrency investors and blockchain enthusiasts, it was a year that gave them reasons for optimism. After a period of stagnation the crypto market has awoken, bitcoin is nearing its new all-time high, and many people believe that a massive bull run is imminent.
There's no denying that the rise of DeFi has been the most influential event to happen in the blockchain ecosystem in years. Decentralized Finance projects keep appreciating in value, and the market as a whole seems to just be starting to gain more momentum, as there's still a lot of room to grow.
The upcoming year will surely bring us many new and innovative DeFi projects, but some of the trends that might dominate the Decentralized Finance market in 2021 are already becoming prominent. The increasing popularity of DEXs which offer improved security will likely cause the entire ecosystem of decentralized exchanges to grow, and Non-Fungible Tokens may give DeFi an additional boost.
So far, the single most promising DeFi trend for 2021 seems to be the rise of ultra-secure decentralized exchanges pioneered by Anyswap. Security issues have been the biggest problem of the DeFi community in 2020, and eliminating them will likely cause the entire DeFi market to explode.
Disclaimer: This is a paid post and should not be considered as news/advice
Source: https://eng.ambcrypto.com/why-you-should-look-forward-to-anyswap-in-2021