These "Dire" On-Chain Metrics Show Bitcoin Is on the Verge of Dropping to $7k
The past few days have seen Bitcoin stagnate into a tight range between $9,300 and $9,500. This is part of a wider two-month consolidation that has seen BTC's price action tighten under the crucial $10,000 resistance. The cryptocurrency market has been so "boring" that as NewsBTC reported previously, volatility is heading towards lows not seen […]
The past few days have seen Bitcoin stagnate into a tight range between $9,300 and $9,500. This is part of a wider two-month consolidation that has seen BTC's price action tighten under the crucial $10,000 resistance.
The cryptocurrency market has been so "boring" that as NewsBTC reported previously, volatility is heading towards lows not seen since the start of the year.
There is evidence, however, starting to show that a breakout is imminent. And the evidence suggests that it will be a breakout in the downward direction.
Bitcoin On-Chain Metrics Are "Dire" — And That's Not Good for BTC's Price
Prices may be holding up rather well, but Bitcoin's on-chain stats are purportedly "dire." The founder of blockchain data firm BlockTree Charlie Morris reported on June 14th that a number of statistics for the leading cryptocurrency are all trending lower, suggesting a price drop to the $7,000s:
"1-week network velocity down to 454%, 5-wk 556%. Tx value down, av tx size down, fees down, MRI shot to pieces. Why the lack of interest? Can't see price holding up. Fair value <$7k," Morris wrote.
#bitcoin on chain stats are dire. 1 week network velocity down to 454%, 5wk 556%. Tx value down, av tx size down, fees down, MRI shot to pieces. Why the lack of interest? Can't see price holding up. Fair value <$7k. https://t.co/5O82LldYl6

— Charlie Morris (@AtlasPulse) June 14, 2020
His prediction of a drop towards $7,000 was derived from ByteTree's Fair Value indicator. The firm says the Fair Value indicator "describes a network value multiple with respect to on-chain transaction volume (the economic value of transactions in USD terms)."
The bearish on-chain outlook can be corroborated by similar metrics from IntoTheBlock, another blockchain analytics firm.
Below is a screenshot of the company's Bitcoin on-chain metrics dashboard. As can be seen, three out of the company's seven core metrics are currently "bearish."
The metrics "bearish" are as follows: 1) net network growth, which tracks the overall trend of the Bitcoin network; 2) in the money, a measure that tracks the profitability of BTC investors; and 3) large transactions, the raw count of how many "large" BTC transactions take place.
Miners Hold Strong
There is one on-chain silver lining though: the mining scene.
Blockchain data firm Coin Metrics observed on June 14th, Bitcoin's hash rate has recovered the losses it incurred after the block reward halving on May 11th:
"The CMBI Bitcoin Hash Rate Index demonstrates that hash rate has now largely recovered to its pre-halving levels."
The strength amongst mining entities may not be enough to stop the confluence of a bearish on-chain and technical outlook for Bitcoin though.
"I've been seeing more and more comments saying BTC going down to support is unlikely because that'd be too big a drop. That's not how BTC works. Retraces are short and vicious. Crashes even more so. 40% down is not unlikely, it's happened before, it'll happen again."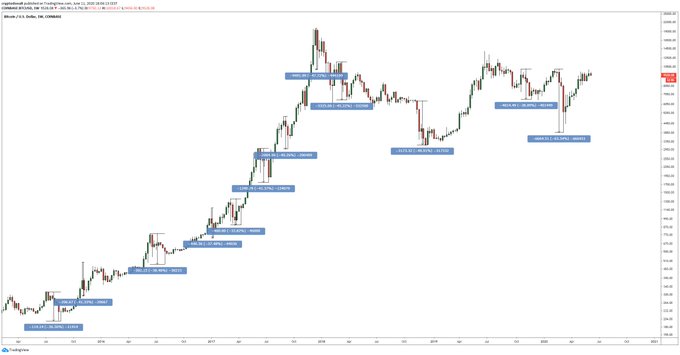 Featured Image from Shutterstock Price tags: xbtusd, btcusd, btcusdt These On-Chain Metrics Show Bitcoin Is on the Verge of Dropping to $7k
Source: https://www.newsbtc.com/2020/06/15/on-chain-metrics-bitcoin-7k/?utm_source=rss&utm_medium=rss&utm_campaign=on-chain-metrics-bitcoin-7k
Litecoin, STEEM, Dash Price Analysis: 19 October
Litecoin's value dropped on the back of a bearish divergence, but at the time of writing, it was close to a critical level of resistance. STEEM appeared to enter a period of consolidation, while Dash was unable to breach and hold its level of resistance. It is likely that DASH will register more losses over the next few trading sessions.
Litecoin [LTC]
LTC was moving within an ascending channel (white) and exhibited a bearish divergence (orange) when LTC made a higher high as the OBV formed a lower high.
This showed that the price was making gains, even in the face of diminished buying volume, and the price was subsequently forced to correct to $47.
A level of resistance lay at $50.45 for LTC. The crypto-asset has not been able to close and defend this level since early-September and would be a target for the market's bulls in the coming days.
A close above this level would be bullish and LTC could soon rise to $54.
Steem [STEEM]
The Bollinger Bands were tightening around STEEM's price, with the same indicating a period of lowered volatility.
The crypto-asset, while it noted a bullish divergence (orange), gained by 1.4% on a move upwards. The asset has been trading between $0.17 and $0.152 for most of the past three weeks.
A phase of consolidation near the support level might break out to the upside. However, more time and data would be needed to confirm both the consolidation and then, a potential breakout.
Dash [DASH]
The 20 VWMA (volume-weighted moving average, green) was moving some distance beside the 20 SMA (white) over the past week. Alongside the heavy trading volumes seen in individual sessions, it can be concluded that DASH's recent spike to $73 and the equally rapid descent to $66 was a violent tussle between the bulls and the bears on the charts.
Further, the price appeared to have flipped the $69.8-level to support, but the bears were able to undo all the recent gains as they pushed the price even lower.
DASH was also trading under the 100 SMA (pink), which highlighted the fact that DASH has been trending lower since late-August.
A reversal in trend would necessitate the capture of the $69.8-level. However, the past few trading sessions have seen the crypto-asset post gains while the trading volume was well below average, suggesting some more losses could be seen shortly.
Source: https://eng.ambcrypto.com/litecoin-steem-dash-price-analysis-19-october
Trial of Alexander Vinnik, accused of Bitcoin fraud, begins in Paris today
Suspected of a BTC fraud, the alleged owner of the Russian cryptocurrency exchange BTC-e, Alexander Vinnik will start his long-awaited trial in Paris today. The trial begins after Vinnik was arrested in 2017 while holidaying with his family in Greece, and later being imprisoned in France.
According to French prosecutors, Vinnik has been suspected of being the main creator of the 'Locky' ransomware which led to the encryption of users' data after which he allegedly demanded ransom in bitcoin. Back in 2016 and until 2018, several entities in France were targeted through this malware which resulted in twenty victims paying the ransom through BTC-e.
In this Paris trial, 41-year-old Vinnik has been accused of this ransomware fraud amounting to 135 million euros ($157 million) and faces up to ten years in prison. Furthermore, Vinnik who claims that he is innocent faces 21 charges from U.S. law agencies accusing him of laundering billions of dollars connected to criminal groups, as well as identity theft and for even facilitating drug trafficking. So far, Vinnik maintains that he was only a technical consultant at BTC-e and has denied all the aforementioned accusations.
He is also wanted in Russia, in fact Vinnik had gone on a hunger strike demanding to be extradited to Russia where he faced lesser fraud charges for the amount of 9,500 euros ($11,200).
Earlier in June, New Zealand police had seized assets worth $91 million from a Russian man who laundered billions of dollars in cryptocurrency. Police claimed that the assets involved were held in a New Zealand-registered company, Canton Business Corporation, that allegedly operated the now-defunct BTC-e exchange.
Source: https://eng.ambcrypto.com/trial-of-alexander-vinnik-accused-of-btc-fraud-begins-in-paris-today
Uniswap could be a stumbling block for DeFi decentralization
Unsiwap's governance vote has been a hot and controversial topic, with questions raised surrounding its centralisation
There are concerns that an Ethereum flash crash may happen when UNI mining is concluded in November. Industry experts have embarked on finding more flaws in addition to the centralisation concerns resulting from Uniswap's first governance vote.
The last whale account took the proposing side of Dharma. The conclusion of the vote, therefore, means only a handful of addresses with the majority of UNI tokens will have governance power.
It is worth noting that three addresses accounted for nearly all 39.5 million votes in support of the proposal, with only about 700,000 in opposition. The Dharma and Gauntlet proposals' approval gives them a majority if they agree on any upcoming decision. However, this isn't the only thing to worry about.
According to Ryan Berckmans from Predictions Global, the governance could be a hindrance to the DeFi sector. Berckmans also predicts that the central control could impact volatility on Uniswap.
Another concern is the conclusion of UNI liquidity mining on November 17. Berckmans points out that about $800 million in Ethereum will be pulled out from the pools when they ultimately expire. This, in turn, could result in a flash crash and even disrupt the whole decentralised finance sector.
In his opinion, the feasible way of keeping the sector stabilised is by perpetuating the UNI farming incentive. He also recommended designating executives to act as governance officers similar to what Ethereum has adopted with Tim Beiko and the new EIP 1559 fee proposal.
Source: https://coinjournal.net/news/uniswap-could-be-a-stumbling-block-for-defi-decentralization/